Who We Are
We are Digitigers – a company offering technology services to corporates. We offer Software Engineering services to help you build your Mobile and Web Applications. We also design and build websites having rich and dynamic content.
How We Help
Mobile Apps
We work with clients to conceptualise, design and build mobile apps. This could be a bespoke application or a full fledged product.
Web Apps
We develop dynamic web applications using the latest technolgoies.
Engineering Services
You can augment your build team by making use of our Engineering services.
Technologies
Our Process, Produces Results
1. INITIATE
Meet clients to gather requirements. Document Requirements.
2. DESIGN
Plan execution. Set Schedule and Expectations. Design Website.
3. BUILD
Build the website. Creative, Content and Code.
4. TEST
Internal Test. Followed by Client Test.
This Is What We Bring To The Table
The Right Tools.
The Right Solution.
We will work with you to strategise and use the right tools to deliver the right solution.
Pursuit of
Excellence.
We strive for excellent outcomes in all our projects. Attention to detail is in our DNA.
Trust and
Transparency
Have conversations with us based on trust and transparency. Develop a healthy relationship.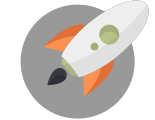 We're Here To Help Your Business Blast Off!
Through Creative Ideas, Innovation & Sheer Determination